about me


Haii! Cassie here! :B Well, that's my nickname and not my real name luh, try guessing for my real name, haha. I am also known as Dollie, I guess you can call me that too. :D Dont worry, I don't bite, I'm kind if you are! (:



disclaimer


Haii! :D If you don't know, my name is Cassie, and this is my blog. Please DO NOT rip anything from this blog. Spams and rude messeges would just be deleted. Do not copy anything, use CTRL+C to copy codes if you need to.

FAQ


Q: How you make your blogskin?
A: Please don't ask me, I took time to understand the codes.

Q: Can help me make one?
A: I don't really make blogskins for people, unless they are really really close to me, and provided that I have the time.

Q: Do you do button requests?
A: No, I don't. But you can get them from other bloggers! Look for their link under the Credits tab(:

Q: Do you do link exchanges?
A: Yea, I do. Just leave a tag at my tagboard with your URL and NAME. (:

Q: Can I get inspirations from your blog?
A: It depends, ask me first.

Q: The question that I wanted to ask is not stated here.
A: Tag me at my CBOX or email me at milkychocoo.gmail.com



the site


Helloooo! You're at http://milkychocoo.blogspot.com/.
My previous site was http://itscalled-love.blogspot.com/
Why I changed url again? Because I had nothing better to do. =/
Dont blame me if I change again, :B

Why milkychocoo?
As you can see, there's an extra 'O' at the back. Don't ask why, just felt like putting it.
Unless if you can find the real reason, good for you :B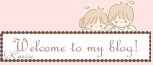 stats


since 021108♥

tagboard


funstuff


melodies


Those I joined
Please click to expand! :D



Hosted in October 2008

Awards

Thanks for all the awards!
Appreciated them! :)
Please click on the words below to see the awards! :D




First place

Cutest Blogskin Design
CLOSED :D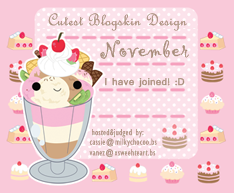 Starting date : 5th November .
Deadline : 15th November.
Rules :
Blog can be hosted on both .co.nr and .blogspot.com.
The banner must be placed somewhere at your blog.
Minimum of 10 participants,
Maximum of 20 participants.FULL :D

Looking out for :
Kawaiiness of the skin - 40%
Neatness - 30%
Decoration - 20%
Proper crediting - 10%

Judged by :
Cassie
Vanez

Tag with your name, url and button url at the tagboard below.






Please click here to tag with your name, url, and 88x31 button! Thanks!


participants







Plug yours now!
Please plug no more than twice!


thanks ! :D

basecodes: Kyuusho
cursor: chocoxbaby
music: x
cursor: lovecandied
image: x, miko
smilies: fangmin, chocoxbaby
icons: sipei, miko
favicon: chocoxbaby
buttons: x, x, x, x
hover codes: sipei
backward and foward codes : Nicole

Please tell me kindly if I have forgotten to credit you in any way ! Thanks :D


Saturday, January 24, 2009

Okay, so I guess I was tooooo lazy to update.
Might be closing blog, depends, busy on studies ( Or not )

I keep playing audi, and neglecting mah blog .
And, I usually have nothing much to blog about so..

I.
Am.
Still.
Deciding.
What.
To.
Do.
With.
My.
Blog.

Blah.

©
Milkychocoo, all rights reserved.

Thursday, December 18, 2008
Yay. Posting the results!
First place goes to; Nicole! :D
Second goes to, Suanne! :D
Third goes to, Miko ! :D
& fourth goes to, Amelia ! :D
Participation banner :
Gah, i forgot to add the month for the participation banner D:
©
Milkychocoo, all rights reserved.


Yayyyyyy, hellloooooo! :D
Shall be posting up the results when Vanez comes home, she has CCA =.="

Sorry for making uu all wait, personal problems x.x'


Gah, i seriously have no time to update, bye x.x

©
Milkychocoo, all rights reserved.

Friday, December 5, 2008

Yay. I fractured a bone. :D
MIAAAAAA D:
Ohand, the results will be out soon (:
Maybe imma just give the code to vanez and ask her to post it. :X

Will update more if possible, my arm is hurting, ahha :D

& KJ, you go die, say what obi D:
& VANEZ, VISIT MEEEEEEEE T_T

©
Milkychocoo, all rights reserved.

Sunday, November 30, 2008

Tagged by VANESSA, aka KJ's or whatsoever, or also known as MRS TUNG :D
Kay, JIE, don't kill me, tyvm :X

1. What kind of boyfriend/girlfriend do you like
- Caring, thoughtful.. most of all, loves me :B LOL.

2. How did you celebrate your 1st Month?
- I don't have one o-o"

3. Do you feel safe with your boyfriend/girlfriend?
- Refer to the answer for question 2.

4. When you see your stead injured or sick, would you be there even if you're busy?
- Busy as in ..? o-o"

5. When it's your 12 month & your stead is having another r/s, what would you do?
- can i leave this blank o-o"

6. What if you know your ex is still loving you albeit he/she is single while you're attached?
- Refer to qn 5 for the ans? o-o

7. Are you single, having a r/s, or having a crush on someone?-
- Single <3


8. List out 3 love/sad songs.-
- Shattered, papercut, I'll remember you.

9. What would you do if you and your stead quarrel?
- Give each other some time to chill? :X

10. Do you wish to know if someone has a crush on you?
- Hmm, perhaps .

11. What if you're single and someone has a crush on you?
- Who's that person? O.O! LOL

12. How do you feel when you fall in love with someone?-
- I think confused . lol x.x Okay, i dont know.

13. How many times had your heart been broken by somebody?
- Once? :X

14. If you and your stead quarrel, who'd be the one apologizing?
- See who was at fault? If I were at fault I will apologize :X

15. What would you do if your stead wants to break up?
- Ask him why he wants to break (:

16. Did any of your ex-stead give you a present that you liked the most?
- Me no stead :D

17. When did you last cry for someone whom you love?
- 21st NOV 2008, I forgot what time o-o"

18. How many times did you break your promise to your ex-stead?-
- zero, cause i dont have one.

19. Do you wish that your r/s will last long?
- If i had one . o-o"

20. Did your ex-stead kiss you in public?
- Me no stead :D LOL.

Pass this to your friends to know how their relationship is going on.Send them by MSN, or ask them to Copy & Paste.Post it in their blog.Remember to put down 11 names, so that your r/s will last long.

1. Mist <3
2. Vanilla
3. Sherlyn
4. Shirley
5. Xinran
6. Junlin
7. Lucia
8. Lynn
9. April
10. Carina
11. Shuwen

I'm too lazy to tag you girls/guys now :D Will tag later when I'm free, ahaha :D
&, will update for my overseas trip soon :D

©
Milkychocoo, all rights reserved.

Sunday, November 16, 2008

I've stopped blogging for the meantime, wont close down the blog cause of the contests going on. Try not t talk to me in msn also, no mood. Will blog maybe only when I come back from Australia, 28th NOV. Bye. If you have anything t ask please email me at milkychocoo@gmail.com, thanks.

©
Milkychocoo, all rights reserved.

Tuesday, November 11, 2008

Went to visit habbo just now, & I realised that some of you actually missed me. I feel so bad for quitting x.x' . Nevermind, I'll go visit once in a while though. I tagged onto my old account, saying that I actually forgot my password. Doubt anyone will actually believe me though..

One more day and school ends ! Wheeee :D
Flying to Australia on 21st - 27th November.
Maybe go there can update, cause mum bringing her laptop there. (:

I wont promise you pictures because I'm too lazy to take, LOL.
Got, but then got my ugly face in it :X

Anyw, changed IGN in audition from -SQ-CASSIE- to -SQ-DOLLx3 .
OK, byebye :X

©
Milkychocoo, all rights reserved.

buttons

Other buttons :

real life




If you want me t (re)link you, please tell me through CBOX with your name & link, thank you:D

April Alfie Angela
Belle Bernice
Carina Carina Koh Carrine
Dylane
Eesuan Elaine
Fiona
Gennie Gina Gordon
Hazel Huihui Huiyan
Jolene Jianing Jovi Jeanrong
Laural Laura Lynn Lihua
Mavis
Ngyen
Pearlyn
Rosalind
Rachel'W
Sinyao Shinnie Shuwen Shuoling Simone Sixuan Sayhui TCG
Vanez Vanessa
Winnie
Yi Ling Yi Jie
Zhen Yin
5Sincerity'08 5Respect'08 5Responsibility'08
Milkshakes Friendshit
-MiNT-Guild
Cosmopolitan
Blogshop 1
SG Bloggers Directory




cyberworld
Agnes
Adena
Amanda
Areena
Ayumii
Amelia
Andrea
Crissie
Bel
Brenda
Casey
Cordelia
Cynthia
Donna
DJMostStupid
DJSweetLove
Eunice
FionaT
Gen
Hazel
Hueyteng
Ischelle
Ice-angel
Jialing
Junlin
Joey
Jaquline
Junsheng
Jerald
Jessica
James
Kerxin
Lilin
Linq
Lisa
Lucia
Miluska
Minghua
Meiying
Meow
Mitsuki Yuno
Mandy
Nicole
NeverSayILY
Orange
Pris
Rachelie
Shiying
Spring
Siti
Shirley
Suanne
Sherlyn
SongQin
Steph
Summer
Twira
Vanilla
Xinran
Xinyi
Xinni
Xiaxue
-MiNT-Guild
Cosmopolitan